10:46 pm
[forkilling]
PIG (w/ former KMFDM members) on tour NOW
***Slick cynical lyrics delivered with growling vocals on top of a razor and nail mattress of driving guitars, heavy synths, and aggressive beats to create this industrial-rock accomplishment that no fan of KMFDM, Nine Inch Nails, Ministry, Fear Factory, or Static-X should be without.***
5:32 pm
[theatre_of_hate]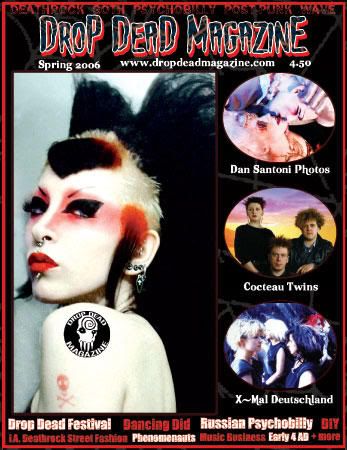 Features:
Early 4AD Bands: The Birthday Party, In Camera, The The/Matt Johnson, Modern English, Rema-Rema, Bauhaus, Sort Sol, The Past Seven Days, Cupol/B.C. Gilbert & G. Lewis, Cocteau Twins, Colourbox, The Wolfgang Press, Dance Chapter, Xmal Deutschland, Drop Dead Festival 3/DDF Year Book, Bohemien, Cocteau Twins, LA Deathrock Street Fashion, Phenomenauts, 1982 Xmal Deutschland interview, The Dancing Did
Bands:
The Cravats, Rezurex, Deadfly Ensemble, Entertainment, Bohemien, Signal and Report, Zero le Creche, Naked and the Dead, Cinema Strange, Screaming for Emily, All Gone Dead, Black Ice, The Arid Sea, Ipómia, Autonervous, Bell Hollow
Order yours now!
http://www.dropdeadmagazine.com/
2:14 pm
[ladykomachi]

Greatings and salutations ...
I realised I haven't actually introduced myself so apologies for my lack of manners :o)
Current stereo fodder:
Covenant - because they light up the world
Alien Sex Fiend - always occupying a fond spot in my heart (and Mrs Fiend is beautiful)!
Dead Can Dance - I can't fit a reason into one line *sigh*
Daisy Chainsaw / Queen Adreena - the ONLY music to do DIY to
Wolfsheim - an truely X Rated voice - in the nicest possible way :oD
What's everyone else listening to at the moment?
Nx
3:48 am
[pessimystica]

hello in there....
let's get this community alive... anyone know some communities to post in to advertise this community that won't get the post removed for no apparant reason or get replies from pissy goths? just wondering... i haven't had a chance to advertise it yet, so feel free to. in the meantime, what have you been listening to lately? some of mine...some not so goth...ok, so i've been listening to them for several years now...
Sisters of Mercy - at the moment
Bauhaus - touring this fall, ooooo yah!!
Echo & the Bunnymen - also touring this fall... i went on a listening spree yesterday & put on the 1st 3 albums, they're great
Clan of Xymox - cuz they rule
Radiohead - hey, they're moody enuff
The Raveonettes - they do wear enuff black ;-)
many more... see my info & posts if you're curious enuff, i'm tired
Current Mood:
tired